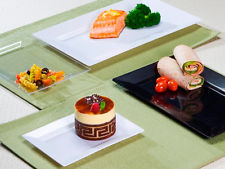 Disposable plate. Rectangle side plate. Black. 10 pieces.
New design.
Rectangle!
Appetizer platter that is both beautiful and stable. The plates are made of sturdy plastic and have a deep center that keeps food on your plate and not in your guest's laps.
Treat your guests like royalty with this sophisticated plate.


Product info:
Size: 15.3 cm. Lunch, salad, dessert.
Color: Black.
Usability in mind.
Package: 10 pieces.