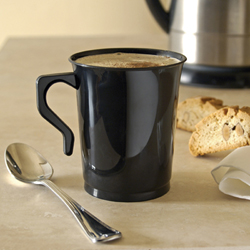 Coffee Mugs. Black 10 pieces.
News
These Coffee mugs are made from flexible polypropylene, a material that resists cracks, impact, stain and odor. Each mug is finished with high-gloss sheen, guaranteeing a polished, sophisticated look that doesn't come with the price and hassle of ceramic mugs. The specially designed handle allows for cups to be easily stacked, so you can store the mugs for use time and time again or dispose of them depending on your needs.

Constructed of fully recyclable polypropylene.
Washable and reusable.
Excellent durability
Package: 10 pieces.